By Chris Cholas
Foreword from Wikipedia, the free encyclopedia:
The title Knight of Bahá'u'lláh was given by Shoghi Effendi, head of the Bahá'í Faith in the period, to Bahá'ís who arose to open new territories to the Faith starting in the Ten Year Crusade (1952-3).
Those pioneers who succeeded in establishing the Faith's first foothold in a country or territory were designated "Knights of Baha'u'llah", and their names inscribed on a Roll of Honour destined, in time, to be deposited, as called for by the Guardian, under the threshold of the entrance to the Shrine of Baha'u'llah. Nothing testified quite so dramatically to the foresight embodied in Shoghi Effendi's successive Plans than the fact that, within each of the new nation-states born after the second world war, Bahá'í communities and Spiritual Assemblies were already a part of the fabric of national life." (Commissioned by The Universal House of Justice, Century of Light, p. 78)[1]
Shoghi Effendi kept a Roll of Honour of all the Knights of Bahá'u'lláh. While inaugurated during the Ten Year Crusade, local restrictions caused some of the goals to remain unfilled. The final Knight of Bahá'u'lláh arrived at Sakhalin Island in December 1990. There were 254 total Knights of Bahá'u'lláh that settled in 121 localities, they had been sent to open 131 nations and territories of which 10 had already been opened. On 28 May 1992, during the commemoration of the centenary of the ascension of Bahá'u'lláh, the Roll of Honour was deposited by Amatu'l-Baha Rúhiyyih Khanum at the entrance door of the Shrine of Bahá'u'lláh.[2]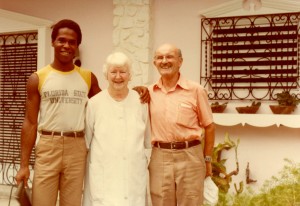 The Island of St. Lucia was honored to have one of the heroic Knights of Baha'u'llah, Esther Evans. During my October 1983 visit to St. Lucia, I had the bounty of a visit to the home of Esther Evans with my host, Arthur Irwin, and a local young man named Cliff. Esther had arrived thirty years earlier in October 1953, and had stayed as a pioneer to the island for the rest of her life.
She told us that when she first came to the island, teaching was not easy. Most everyone was Catholic and not ready to hear about the new Manifestation from God. So she went to the local library to offer a selection to the library of Bahá'í books. The librarian told her that St. Lucia was 98% Catholic and people would not be interested in reading the books. Esther asked the librarian, "What about the other 2%?" The library accepted the books. Gradually the Faith grew on St. Lucia with the help of more travel teachers and pioneers, and by the time of my visit in 1983 there was a sizable and active Bahá'í membership very active in the Faith.
I asked her what was one of her most cherished highlights during her many years on St. Lucia. She said it was the visit of Hand of the Cause of God Amatu'l-Baha Rúhiyyih Khanum (the wife and widow of Shoghi Effendi) to St. Lucia. Esther had the honor to host Rúhiyyih Khanum in her home. "When she was with me in my home she asked me what made me want to arise to pioneer? I told her that it was her talk (Rúhiyyih Khanum's) at the Intercontinental Conference in 1953 in Wilmette when she told us to 'take our moldering bones and go pioneering' I decided right then that I had to go pioneering. Rúhiyyih Khanum gave me a puzzled look and remarked 'I said that?'"
For more about the life of Esther Evans on St. Lucia check out these links:
http://www.bahaihistorycaribbean.info/A_Chat__with_Esther_Evans.pdf